Abandoned Farm House between Preston and Plains Georgia
 The team was asked to investigate an abandoned farm residence near Preston Ga.
The clients reported the sound of heavy footsteps coming from the upstairs hall and bedroom area.
They felt as though they were being watched and one of the family members saw a black mass appear.
Appliances would turn on and off sporadically and lights would flicker.
The activity became so intense that the family abandoned the house with all of its contents and the place has remained empty for several years.
They did occasionally return to remove some of their belongings but always were too uncomfortable to spend more that a few minutes.

Some members of the family returned to the house with us on October 19th.
The entity in the house seemed to have an attachment to the youngest daughter and she bravely participated in our investigation
The power  and water in the house is turned off and The initial E.M.F. sweep of all the rooms  registered  0.0.
The light was supplied by oil lamps  and flashlights.
At first there was very little activity but as the evening progressed we seem to establish communication with the unknown entity.
We did catch the sounds of footsteps from the 2nd floor. No one was up there ; C0000016 footsteps
answer from the ghost box session: if i leave clip2
We did get several responses  to questions by flashing on the K-2 meter.
2nd video:
there appears to be something running by the window  :
Pic 1 shows the shed outside the residence. There is something in the shed that is piled in front of the window.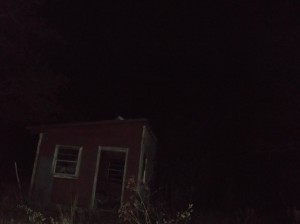 pic 2  also of the shed but appears to have some feint figures in the window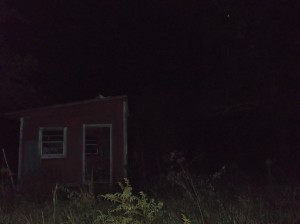 an interesting comment on the spirit box: